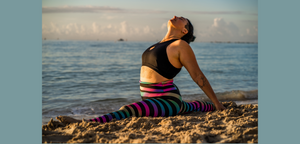 Holistic, modern career coaching infusing yoga lifestyle and mindset
Forget the 9 to 5 - what's your ideal 24/7? Customized career coaching tailored to your personal life goals. From diving deeper into who you are, to accepting a new job - our methodology has just what you're looking for. Let's set your heart on fire and fall in love with your career.
The number 108 is significant in math, science, geometry, numerology, & in many religions and spiritual traditions.
When you say, speak, or write 108, you are empowering yourself with the wisdom of the universe - all that it is and all that it continues to be.
1 - The singularity, 0 - the nothingness/everything, 8 - the infinite.
Read about this magic number here.
Blog
---
I recently completed an interview with Kinda from Springboard about AI tools in the job search! Check out the full article here.  To your success! 
The goal of informational interviews is to gain industry insights and expand your network of professional connections. But what happens after a great conversation? How do we keep this relationship...
Just because the holidays are around the corner, doesn't mean your job search has to cool off! Here are 5 strategies to make the most of job searching during the...